Profile

half of what i say is meaningless
but i say it just to reach you
Free Account
Created on 2011-04-05 16:34:09 (#715590), last updated 2011-05-26 (330 weeks ago)
2,673 comments received, 3 comments posted
269 Journal Entries, 145 Tags, 0 Memories, 15 Icons

About

Mini Bio
THE GIRL

So I'm shah_of_blah. You may have seen me around the world wide web under monikers such as Miss Edith or Serrafina. I write things. That's about all you need to know. My username is a reference to Salman Rushdie's Haroun and the Sea of Stories, and the title of my journal is from a Beatles song. Add or remove me from your flist if you so desire.




THE JOURNAL

Right-o, well, I started this journal as a place to post my fic and obsess about my fandom. That was (and still is) Battlestar Galactica. And when I talk about BSG, I'm really talking about Kara Thrace. I am also a proud fan of the Whedonverse (let me tell you sometime about how I watched "Train Job" when it first aired, one Friday night long ago) and various other fandoms listed in my interests.




THE FIC

Almost all of my fic is about Kara Thrace, or Kara/Lee. I have also posted the occasional Firefly fic or crossover fic. My pre-LJ fic (mostly Buffyverse) is at fanfiction.net under the name Serrafina. And I co-authored The Very Secret Diaries on the Hellmouth series with visualthinker11, found at hellmouth_vsds!

profile codes | mood theme | header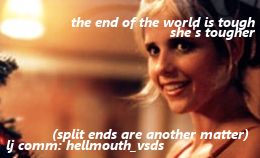 Oh yeah, and I have a blog: Critically Obsessed

Connect
30 rock
,
abby wambach
,
aeryn sun
,
akira kurosawa
,
alyson hannigan
,
amber benson
,
angel
,
angst
,
arrested development
,
asoiaf
,
astonishing x-men
,
barbara kingsolver
,
battlestar galactica
,
books
,
bret mckenzie
, briana scurry,
bryan fuller
,
bsg
,
btvs
,
buffy
,
buffy the vampire slayer
,
captain hammer
,
catch-22
,
chiwetel ejiofor
,
christopher eccleston
,
chuck
,
creative writing
,
crossovers
,
dead like me
,
demon's lexicon
,
dexter
,
diana wynne jones
,
dinosaur comics
,
discworld
,
doctor horrible
,
doctor horrible's sing-along blog
,
doctor who
,
dollhouse
,
douglas adams
,
earthsea
,
eddie izzard
,
fairy tales
,
fandom
,
fandom wank
,
fanfic
,
fanfiction
,
fantasy
,
farscape
,
fawlty towers
,
feminism
,
fic
,
fiction
,
firefly
,
flight of the conchords
,
fotc
,
glee
,
grrm
,
helo
,
his dark materials
,
hitchhiker's guide
,
hunger games
,
into the woods
,
jane austen
,
jemaine clement
,
johnny depp
,
jon stewart
,
joss whedon
,
jossverse
,
kara
,
kara thrace
,
kara/lee
,
katee sackhoff
,
kelly link
,
kitty pryde
,
laughter
,
lee pace
,
les pilotes dangereux
,
limericks
,
literature
,
lord of the rings
,
lost
,
martha jones
,
mocking things
,
monty python
,
movies
,
music
,
musicals
,
mythology
, natasha kai,
nathan fillion
,
neil gaiman
,
original fiction
,
oscar wilde
,
philip pullman
,
pride and prejudice
,
pushing daisies
,
reading
,
richard thompson
,
runaways
,
salman rushdie
,
sandman
,
sarah connor chronicles
,
satire
,
sci-fi
,
serenity
,
shakespeare
, shannon boxx,
short stories
,
soccer
,
sondheim
,
starbuck
,
starbuck and apollo
,
stephen colbert
,
sugarshock
,
terry pratchett
,
the big bang theory
,
the colbert report
,
the daily show
,
the fall
,
the simpsons
,
the tick
,
they might be giants
,
tv
,
twin peaks
,
ursula k. leguin
,
veronica mars
,
whedonverse
,
wonderfalls
,
writing
,
x-files
,
xkcd
,
zombies

People
[View Entries]

Communities
[View entries]

Member Of (1):

Subscriptions (3):

Administrator Of (0)

Feeds
[View Entries]

Subscriptions (0)

Linking
To link to this user, copy this code:
On Dreamwidth:
Elsewhere: